Since his 2019 triumph at the prestigious Tchaikovsky Competition if not before, Alexandre Kantorow has been among the most sought-after pianists of the young generation, appearing at the world's leading concert halls. Among them the Elbphilharmonie, where he has made several successful appearances. Kantorow is known first and foremost for his virtuoso and sensitive readings of Romantic piano music: not without reason have critics called him »the reincarnated Liszt«.
Kantorow himself waves this description aside with an embarrassed laugh. But Liszt's music nonetheless features regularly in his programmes. In May 2022 he gave a brilliant performance of the Hungarian composer's virtuoso Second Piano Concerto in the Grand Hall, but for his recital in the piano store he devotes his attention to a much more intimate form in Liszt's piano repertoire: an arrangement of Franz Schubert's touching song »Die Stadt«.
Alexandre Kantorow was born in 1997 and grew up in a musical family: his mother is a violinist, while his father Jean-Jacques first made a name for himself on the violin, then later as a conductor as well. But that doesn't mean that he spent more of his childhood in concert halls than at the playground: »We only rarly went to a concert,« Kantorow says, »and for many years the piano was simply something I liked playing after school.«
Then the French pianist, aged only 22, won both first prize and the gold medal at the prestigious Moscow International Tchaikovsky Competition in 2019. This launched him on an international career: since his double win in Moscow he has been appearing at the world's top concert venues, and playing with such big-name ensembles as the Budapest Festival Orchestra, the Orchestre de Paris and the Concertgebouw Orchestra of Amsterdam.
Programm
Franz Schubert
Die Stadt / Arr. for Piano by Franz Liszt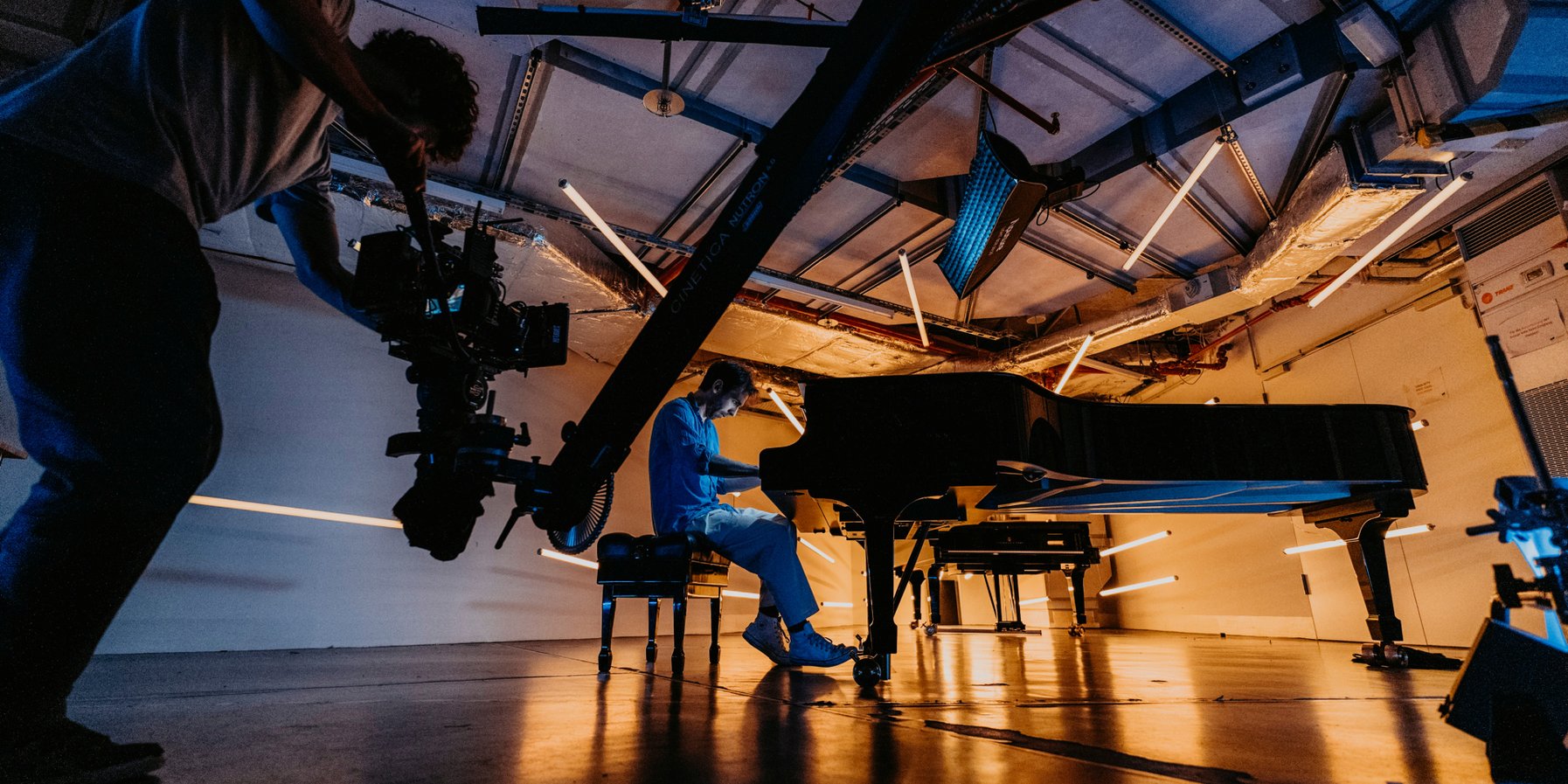 Other participants:
Udo Potratz Recording & Mixing
Jasper Techel / Gert Seggewiss Camera & Edit
David Lössl Edit
Mike Neumann Technische Projektleitung
Jörn Grell / Christian Tiemann Lights
Julian Conrad / Julika von Werder
Conzept & Production
Liszt arranged literally hundreds of lieder for solo piano, over 50 alone written by Viennese composer Franz Schubert. The piano virtuoso and composer had a deep admiration for Schubert, even calling him »the most poetic musician of all time« after he had heard his songs in well-attended Vienna salons in 1838 – »with great joy and tears in my eyes«, as he later wrote.
He loved the drama and poetry of this music, which conveyed the story and its emotions so directly and intensely. So much so, in fact, that Liszt's piano paraphrases preserve the emotional depth and expression of the original songs even though the text is missing.
»Die Stadt«: Lyrics

The City / Die Stadt

Translation / German Original: Heinrich Heine

On the distant horizon
Appears, like a misty image,
The city with its towers
Shrouded in evening twilight.

A humid breeze ripples
The grey waterway;
With a sad beat the skipper
The skipper in my barge.

The sun rises once more
Shining up from the ground,
And shows me that place
Where I lost what was dearest to me.
The location
On the 10th floor, well-hidden in the backstage area, the Elbphilharmonie has its piano storeroom. With optimum humidity and room temperature, five valuable Steinway grand pianos are stored here. They are regularly tuned and played, and are rolled on to the stage before rehearsals and concerts – some 400 times per season.
About the series
Artists record exclusive music videos at the Elbphilharmonie and the Laeiszhalle for Elbphilharmonie Sessions – sometimes in unusual locations offstage. Discover the concert halls from the inside. Discover what they sound like.